Stone Hand Tools
 
Hand Tools Description
Safety Equipment
The most important safety rule is to always wear safety glasses. Wearing a respirator or dustmask is advised when working with power tools that create stone dust. Most participants work by hand sometimes not using power tools at all.. Leather gloves are needed to prevent blisters and scrapes. Shock resistant gloves protect hands from the pneumatic tool vibration and abrasions from sharp stone chips.Ear protection should be worn when using power tools.Many of these items can be purchased at a local hardware store (Home Depot/Lowes)
Chisels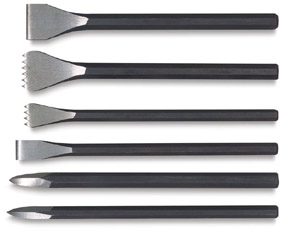 The point is the workhorse of the chisels. It is used for roughing out and removing excess material quickly. It is especially needed for hard stones as marble. The tooth chisel is used next to further refine the carved forms and remove the peaks and valleys left by the point chisel. For soft stones where much of the stone is to be kept the tooth chisel may be the primary roughing out chisel.
The flat and rondel chisels come into play for smoothing out the texture left by the tooth chisel and prepare the stone for finishing. Chisels can be purchased at art supply stores/catalogs
Hammers/Mallets
Hammers come in a variety of weights for doing different jobs. The small 1-pound hammer is used for carving small details. The 2-pound hammer is good for general carving. If you are buying one hammer buy this one. The 3-pound hammer is used for taking large chunks off big stones. It is too heavy for a beginner. Hammers can purchased at art supply stores/catalogs
Beginners may want to purchase a "stone carving kit" that comes with several chisels and a mallet and a canvas tool roll for around $ 60 to $100 dollars. Locally Dick Blick or Pearl Art Supply.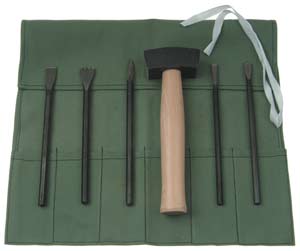 Rasps and Rifflers
The final shaping of the softer stones can be done with rasps.
A few different shaped riffle files are a must. (on-line art supply ) The best one riffler to buy is a
10″ # 660 riffler. 

A second one to get would be
10″# 665 riffler. 

A half-round cabinet coarse file 10″ or 12″ is needed purchased locally at General Hardware in Brookhaven.

The More expensive rasps are BETTER rasps. A half-round 10″ vixen file (Montoya)is a treat to use. Buy most from art supply store/catalog.
Sandpaper
After filing is complete, use red garnet sandpaper starting with 60 grit, then 150 grit. Usually the last thing to work the stone is wet/dry Silicone Carbide sandpaper 220 grit, 320 grit, 400 grit, 600 grit and finally 1200 grit. With this type sandpaper, water is applied over the stone while sanding to remove the sheared-off dust particles.
Alabaster polishes to 1200. Marble begins to show a polish at about 600 grit. Granite doesn't polish until 3,000 grit. Limestone only needs to be polished to 220. Buy at local hardware store.